About AMMA Transit Planning
AMMA Transit Planning has focused on community-level, public transit, demand response and specialized transportation services since its inception in 1987. Client agencies range from the national research arm of the transportation industry to state agencies, regional transportation planning agencies, local communities and individual social service transportation providers.
In recent years AMMA's early focus on implementation of the Americans with Disabilities Act (ADA) provided a foundation for strategic and operational responses to increase transit utilization in rural and suburban settings. These included operationalizing coordination strategies.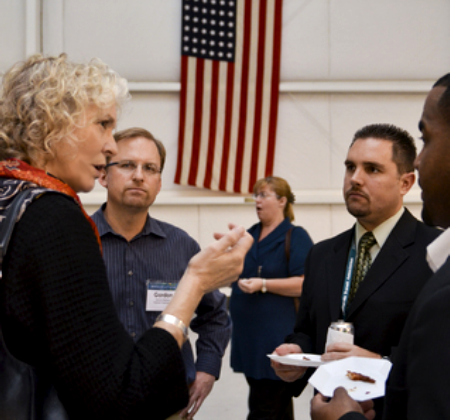 National Expertise
AMMA possesses considerable expertise in transit and transportation policy planning with its emphasis on demand response operations, institutional analysis, financial analysis and forecasting, community needs assessment, and public participation and outreach. AMMA has provided time-tested recommendations for project design and implementation to dozens of unique settings.
AMMA's national experience includes a current Transit Cooperative Research Program (TCRP) project on veterans transportation (Project B-42) and past work on innovation in rural and small urban transit, published as TCRP Report 70 where AMMA was responsible for research among all the western United States. National research work includes current work on TCRP's B-42, the development of a veteran's transportation guidebook and TCRP Report 60 on innovation in paratransit. The AMMA team recently prepared a transportation toolkit for national distribution to AARP volunteers.
Heather Menninger has published several articles in the Transportation Research Record, most recently documenting the measurable impacts of controlling ADA trip growth for Orange County Transportation Authority, in Orange County, CA. (TRB No. 2034, December 2007).
Technical Strengths
AMMA's technical strengths are demonstrated with the authorship of two Transportation Research Record articles on American's with Disabilities Act demand projection, reporting on demand modeling and the cost savings of subsequently implemented policy for Orange County's OCTA, involving extensive work with Trapeze trip data sets. AMMA has more than two decades of experience in delivering on-time, on-budget final reports responsive to clients' needs.
Broad Range of Services
As necessary for clients, AMMA has prepared grant applications, designed various computer tools, undertaken statistical analyses, developed inventories, managed significant public participation efforts and performed the full range of planning activities necessary to support improved management, financial planning and implementation of enhanced paratransit, transit, demand response and specialized transportation programs.
Certifications
AMMA Transit Planning has been registered with Dunn & Bradstreet for the past 20 years.
AMMA Transit Planning is certified as a Disadvantaged Business Enterprise (DBE) in the states of California, North Carolina, Kansas, Missouri, and Oregon, and is certified as a Woman-Owned Business Enterprise (WBE) and a Small Business Enterprise (SBE) in the State of California.
AMMA maintains a general liability insurance policy with Hartford Insurance; Professional Liability through Travelers Insurance; owned and non-owned automobile liability insurance; and employee workman's compensation insurance from California State Insurance Fund.
Affiliations & Memberships
AMMA Transit Planning holds membership or affiliation with:
Transportation Research Board, Paratransit Committee
American Planning Association (APA)
California Association for Coordinated Transportation (CalACT)
Community Transportation Association of America (CTAA)
Women's Transportation Seminar (WTS)